The Chicago Bulls have a legitimate shot at winning the NBA championship this season.
For the first time in a decade, you can read that sentence with a straight face.
And yet, coming into the 2021-22 season, talking heads pegged the Bulls as play-in tournament participants at best. Maybe worse.
The most optimistic prognostications all still had Chicago behind Milwaukee, Brooklyn and Philly. But ESPN's panel of NBA experts picked Miami, Atlanta, Boston and New York to all finish with better records than the Bulls, too. The Athletic predicted Chicago would finish 11th in the East. The pessimism around the Bulls, from all those sources, seemed to center on an assumption that the team's newest addition, DeMar DeRozan, and its franchise player, Zach LaVine, weren't a star pairing that could lead Chicago to more than a .500-ish record.
"Fake experts" is what DeRozan calls them, making air quotes with his fingers. He's sitting in front of his locker inside the United Center, leaning over into a laptop on Zoom. "Obviously, you hear it all, about how it's not going to work, this and that. Just every negative. As competitors, you hear all that. That was one of the first conversations we had. I told him, It's gon' work. And he said the same thing to me."
SLAM 236 is available now featuring Zach LaVine and DeMar DeRozan
They were right. It is working. It's the first week of January in Chicago, so temps are in the single digits. But the Bulls are the hottest team in the NBA, riding a 9-game winning streak, during which DeRozan became the first player in NBA history to hit game-winning buzzer-beaters on back-to-back nights. At press time, Chicago's 26-10 record was good for the No. 1 seed in the Eastern Conference—2.5 games up on the Nets and Bucks. DeRozan (26.5 ppg, career-high 36 percent from behind the arc) and LaVine (26.4 ppg) are both top-8 in the NBA in scoring.
Deebo's resurgence into the national spotlight as a bonafide All-NBA level player is one of the major headlines of this NBA season. DeRozan, now 32, hasn't made the All-Star Game since 2018, but he leads all Eastern Conference guards in fan voting as of early January. (He's seen all your "King of the Fourth" memes, by the way—"One thing you can't miss these days is the internet," he says with a laugh.)
"I've never played with somebody of his caliber," says LaVine, who was still in Tokyo collecting a Gold medal with Team USA when he got word that a sign-and-trade which would bring DeRozan to Chicago was imminent. A first-time All-Star last season, LaVine is the longest-tenured player on the Bulls roster. Chicago hasn't finished better than eighth in the East since 2015, and hasn't won more than 31 games in a season since LaVine arrived in 2017.
At last, the 26-year-old star will get his first taste of playoff basketball this season. Because with DeRozan and LaVine leading the way, Coach Billy Donovan at the helm, and a supporting cast of contributors that includes two-time All-Star center Nikola Vucevic, playmaking PG Lonzo Ball and sixth man Alex Caruso, the Bulls have rapidly transformed into a top-5 offense and one of the most exciting teams to watch in the League.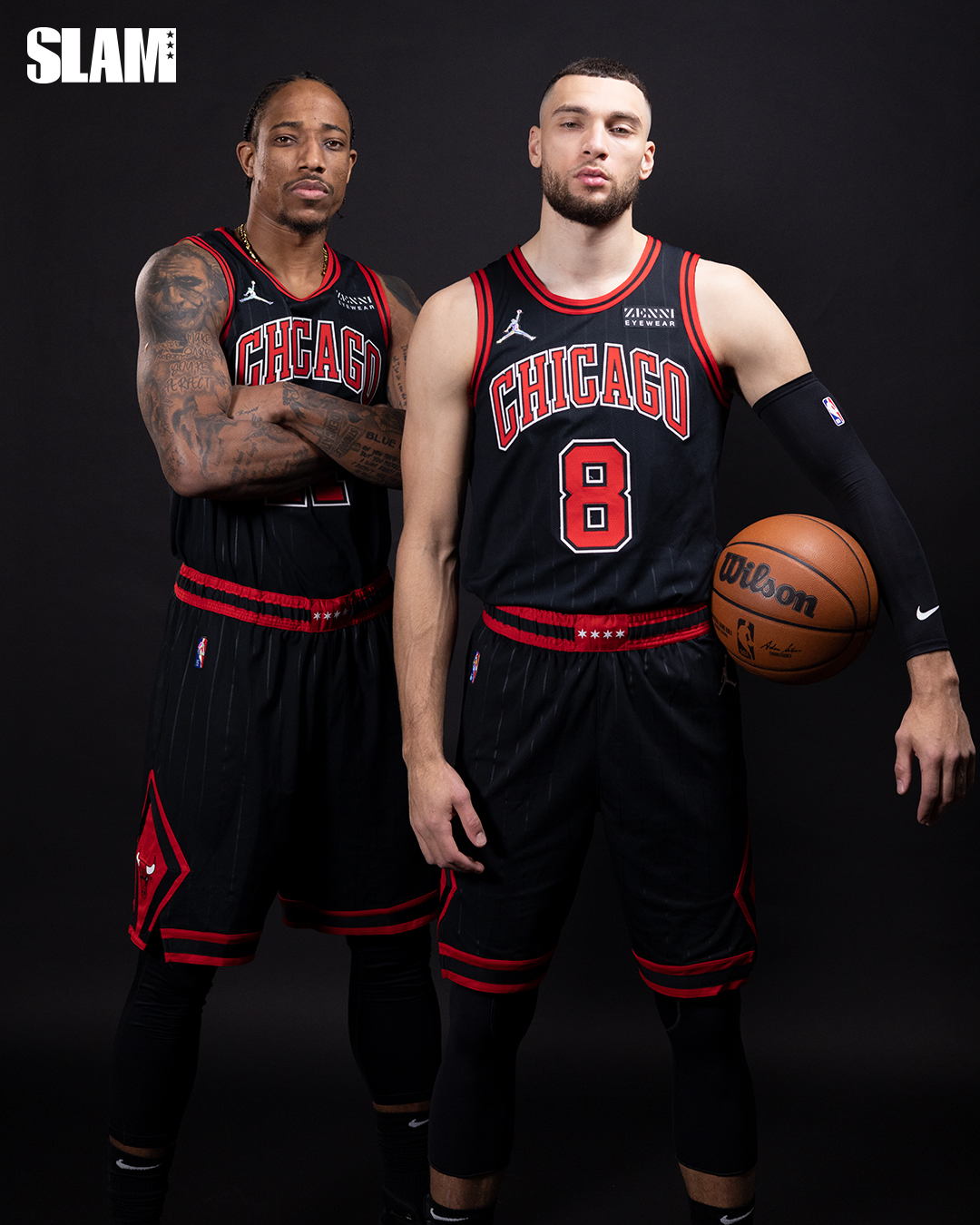 SLAM: How did this Bulls team develop chemistry so fast?
DEMAR DEROZAN: You have high character guys. Everybody respects each other. When you have that foundation, first and foremost, everything else is going to take care of itself on the court. I noticed that on the first day we were all together, it was that feel. Everybody on the team just got a cool demeanor towards 'em. No egos and everybody wants to win.
SLAM: Did you know you guys would find success so quickly?
DD: I knew it would get to this point, at some point, but I'd be lying to you if I told you I expected it to be this fast. We still feel like we haven't gotten to where we know we can get, that's the crazy thing.
SLAM: You dropped 38 in a win over the Lakers while Zach was out due to health and safety protocols. Do you circle games like that one and tell yourself that you need to have a big game?
DD: I texted Zach after that game saying, Man, god damn, I'll be glad when you get back. And vice versa, in games I've missed, he told me the same thing. Every game, we lean on and count on each other. Every time I step out there, I want to step out there with him and dominate, and that's the beauty of our friendship, our teamwork, and just the competitive nature that we have. We want to do it together. There's never a moment where I feel like I want to go out there without him. I need him there every step of the way.
SLAM: What have you learned about Zach now that you're around him every day?
DD: You would think he's older than me. He's mature. The confidence he has within himself is not arrogant at all, he just knows who he is. That's a great quality to have, when someone has the utmost confidence in themselves but it doesn't come off in an arrogant or pushoff way. He's just one of those dudes that you can hang with, you can talk to about anything. He's got an old spirit to him, and that's dope to have. I've always been a fan of his, ever since he played in college at UCLA. I told him, I want to see him have everything he deserves. He's too talented, he's too gifted to not have the world really know who Zach LaVine is, on and off the court.
SLAM: What would it mean to win a championship playing in the city of Chicago?
DD: Everything. That's why you go out there and compete. That's why you figure out what team you could join, which city you could represent. It's a historic franchise. It's the team—outside of the Lakers—that I grew up watching. This city being the ultimate sports city that it is, and the love and appreciation that we get for competing for this city, the way we play and the way we carry ourselves is the epitome of what Chicago is. And for that energy to be reciprocated by our fans, it's only right that we go out there and give them our best every single night. Playing for Chicago has been awesome.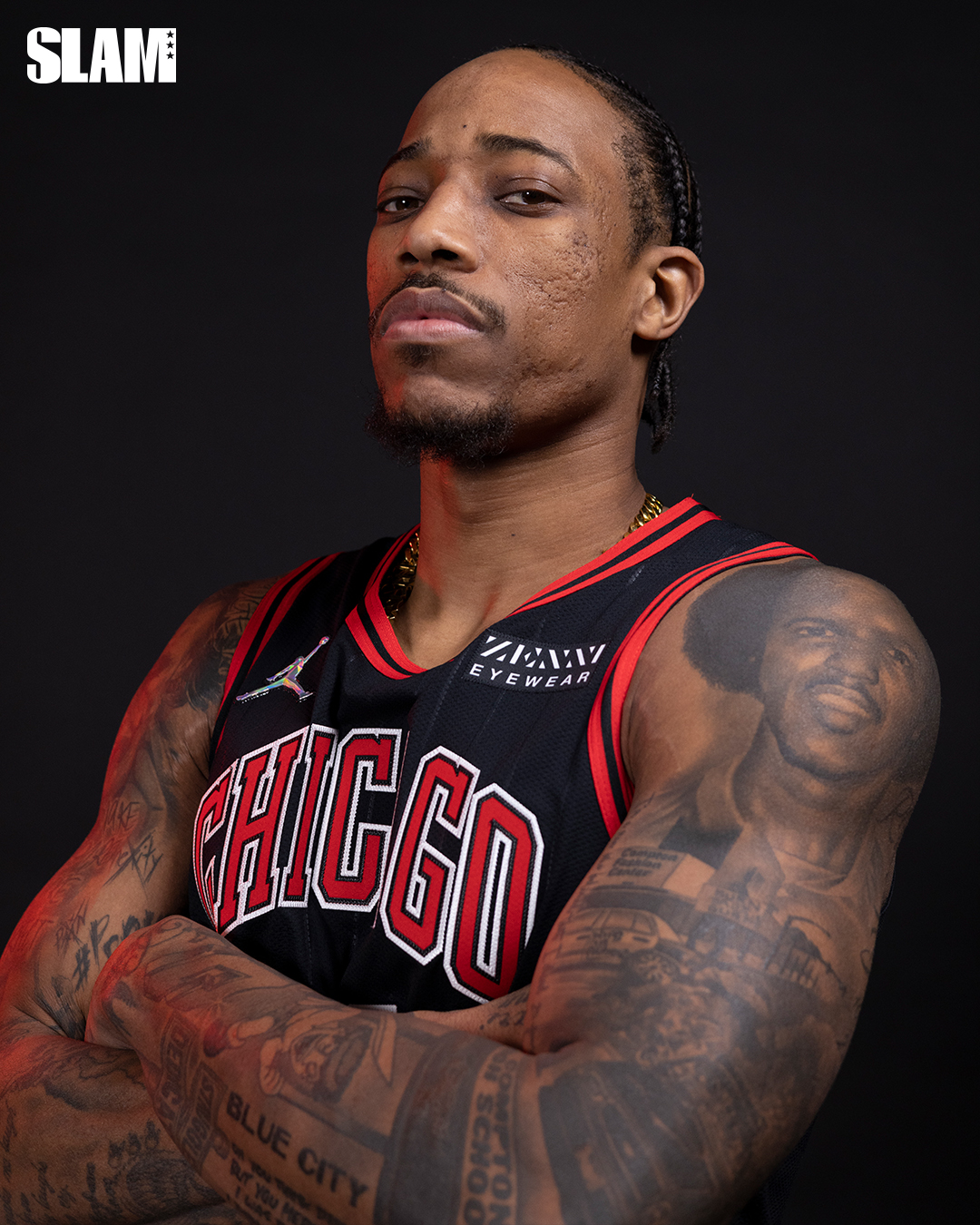 SLAM: What is the ultimate goal for the Bulls this season?
ZACH LAVINE: If you don't have championship aspirations, you're selling yourself short. As an individual player, when I step on the court, I think I'm the best player. And I think that's how your mindset should be, because you put the work in for it. It's not a cocky thing, that's just a confidence thing. So, if you don't think as a team that you're going to go out there and win every game that you play, or you don't think you have a chance of winning a championship, there's no reason to even play. We have championship aspirations, and we're trying to build championship habits.
SLAM: Some NBA superstars would have an ego about other great players joining "their" team. How did you approach it?
ZL: I never understood that. That's not me. I've been here in Chicago for the last five years doing everything I can to develop my game to get to a place of individual play where I wanted to be at, but it wasn't resulting in any wins, and that's very frustrating. To go out there, you put up numbers, you play against these guys, but you don't have that winning behind your name. Having those new guys over here, we have a complete team now, and I have no ego with that. It's not my team, or DeMar's team, or Lonzo, or Vooch. We're all leaders in our own way, and on any given night it could be one of our nights. Obviously, we each have roles, but our main goal we talked about was "do whatever it takes to win." Whoever has it going that night, we'll go through them and just try to help this team grow. We see ourselves as a championship-caliber team.
SLAM: What's the vibe like in the locker room?
ZL: Everybody is close. Everybody has had to make sacrifices on this team to be successful. We all came from places where—Vooch was a No. 1 option, DeMar was a No. 1 option, I'm a No. 1 option, Zo was the second pick in the draft, Caruso came from championship habits—like, we're all coming together and meshing our talents together. It's been really fun to see everybody give a piece of themselves to help the team win.
SLAM: With your Bulls teams having struggled the last few seasons, what does it feel like to find team success this year?
ZL: I'm having the most fun I've had in my career. Over the last couple years, it's been tough for me personally because I try to keep progressing my game, I try to do everything I can do to help the team win. But I feel like in the media, if you're a successful player on a team that loses, you get criticized for it. It never made sense to me. It's tough, but all I care about is winning. I want to be a winning player, and having this team this year, playing this well, has been the most fun I've had in my career, so I just want to keep it going. We have a bunch of dogs on this team. Practice gets scrappy, in games it gets real scrappy. That's something I've really looked forward to this year because we haven't had that in the past.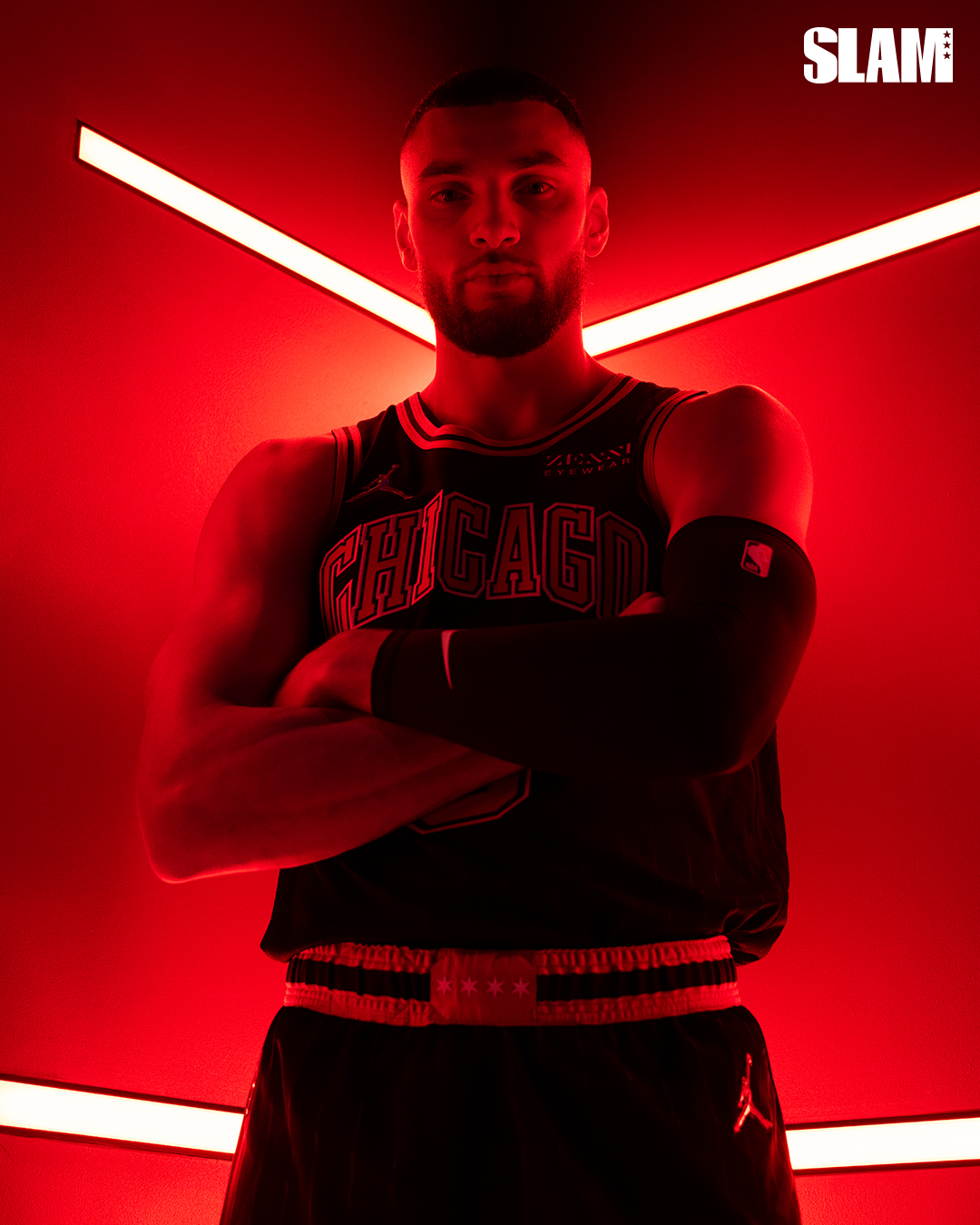 SLAM: You and DeMar have both talked about being doubted in the media. How did those preseason predictions motivate you?
ZL: I use a lot of things for motivation. I'm not the most outspoken person in the media. There's certain things you don't need to go out there and talk about, you just let your game do the talking for you. But there were a lot of things said about DeMar coming here. DeMar Derozan is an All-NBA, All-Star caliber player. He's putting up MVP numbers this year. Obviously, I know who I am as a player, but there's been a lot of critics about my game and the way I've played: Zach's an empty stat guy because they're not winning. I think this year, we're shutting a lot of people up and making them really look at their basketball IQ and seeing how they're just talking on TV for viewership. Sometimes I feel like that's what it is.
SLAM: Did you know DeMar was this good before becoming teammates?
ZL: Yeah, DeMar has been this, and DeMar is still in his prime. Even when I was younger in Minnesota going up against him, they were the No. 1 seed in the East. [Toronto] ran into LeBron James multiple years in his prime, but DeMar DeRozan is a multiple-time All-Star guy. It's not like that guy left. It's weird how the narrative changes. So, when you have the chance to have a guy like that come to your team in the prime of his career, and me entering the prime of mine, I think it was a match made in heaven. 
---
SLAM 236 is also available in these exclusive gold and black metal editions. Shop now.
Portraits by Joe Pinchin.