It's April 15, 2021, the day of the WNBA draft. It's a day that Evans has prayed for and worked so hard for since she was a fifth grader carrying around a recruitment letter with hot cheeto fingerprints on it from Valparaiso University, a small DI school right outside of her roots in Gary, IN.
Surrounded by her parents Damon and Shwanda, as well as other loved ones, Evans receives the long anticipated, and overdue, call from the Dallas Wings. She has been selected first in the second round with the 13th pick in the draft. For Evans, this beautiful moment came with slight disappointment—she expected to be drafted much higher. 
"Honestly, I was a little disappointed because I thought I should have [gone] earlier," Evans says looking back. "Everyone that I talked to prior to the draft told me that I was a first round pick, for sure. Early on, top five, lowest would be like top eight that I [would]  fall, so it was surprising to me but it was also a blessing."
Despite sliding a few spots down the board, the moment was still a dream come true. 
"That's something that I dreamed about. Hearing my name being called was something that I've always wanted. So it was still something that I look at, and thank God for, because like I said, that's what I worked for my whole life. And I finally did it."
For Evans, her spirituality is what keeps her optimistic and hopeful no matter what occurs. Being a 5-6 guard (on a "good day" she once tweeted) came with being overlooked, and for her, this was another moment where she knew that trusting the process was key. Throughout her basketball journey, Evans has had to look past perfection and remind herself not to rush things. She believes that God always has a plan and timeline. 
Evans is from Gary, Indiana, a small city that's sent a handful of players to the pros, including Glenn "Big Dog" Robinson (Bucks), Dick "Skull" Barnett (Knicks) and Wilson Eison (Lakers). Her hometown instilled a sense of toughness in her, as she saw things around her neighborhood that forced her to grow up fast. 
"Growing up in Gary groomed me into the person I am today," Evans says. "It made me tough, it made me blue collar, It made me appreciate the little things in life as well. Not to take anything for granted. Seeing people that I grew up with get killed or go to prison for something that could have been avoided is sad watching but that was just the reality. I will say it helped me mature quicker than usual. But it made me the person I am today."
The game has another way of teaching you how to deal with adversity. After spending a little over a month on the Dallas Wings' roster, Evans was traded to the Chicago Sky, which meant she was less than an hour away from the 219. She found a sense of comfort in the move.
"I think it was the best move for me," Evans tells SLAM. "Me being close to home, me being able to be the backup point guard for [Courtney] Vandersloot and learn from her is huge.Dallas had a lot of guards so I didn't think that was the best fit for me. And that's okay, because it's a lot of girls out here that's really good. So, finding the right fit in an organization is important in this League."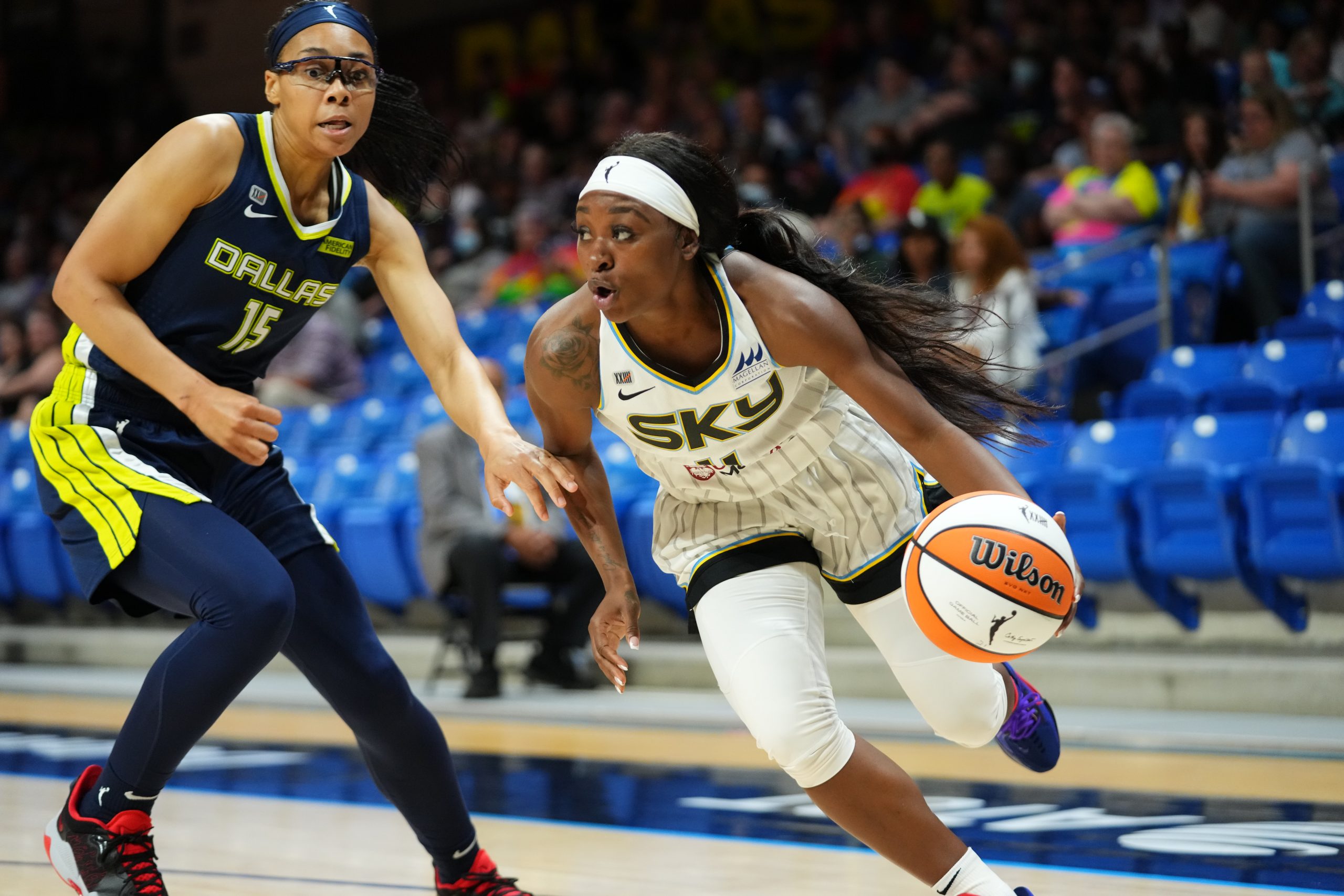 Chicago presented the perfect opportunity for Evans to thrive, as she joined a stacked roster with perennial All-Star veteran Candace Parker, Courtney Vandersloot, as well as elite hooper Diamond DeSheids and Kahleah Copper. Assistant coach Olaf Lange and Parker were two people that really welcomed the rookie with open arms.
"Candace is somebody that I always wanted to get pictures with after games and I never could because it was always so hard," Evans says. "I always used to go to the Sky games and I used to see Vandersloot, even Sylvia Fowles when [she] was on the Sky. So going from watching them and then playing with them and then also playing against two of my favorite players in the Finals was honestly mind blowing, because it's like, I'm really here."
Although Evans' career started off as somewhat of a roller coaster, it's been nothing short of full circle moments. She played in 23 regular season games this past season and was named to the WNBA All-Rookie team, averaging 3.9 points and 1.2 dimes. 
The former 2x ACC Player of the Year went from being overlooked in the draft to now sending the Dallas Wings home in the first round of the playoffs and winning a WNBA championship against Diana Taurasi and the Phoenix Mercury in front of 10,000-plus fans in Game 4 of the Finals.
"Honestly, that was the best time of my life, especially being able to do it with my family, with my friends, the people that I grew up with close to home," Evans says. "It was big because I think when you do it with people that [have] been there with you from start to finish, it makes it a little better just because they know how hard it's been, they know what I've been through—they know how bad I've been wanting the championship, and to get it at the highest level was crazy."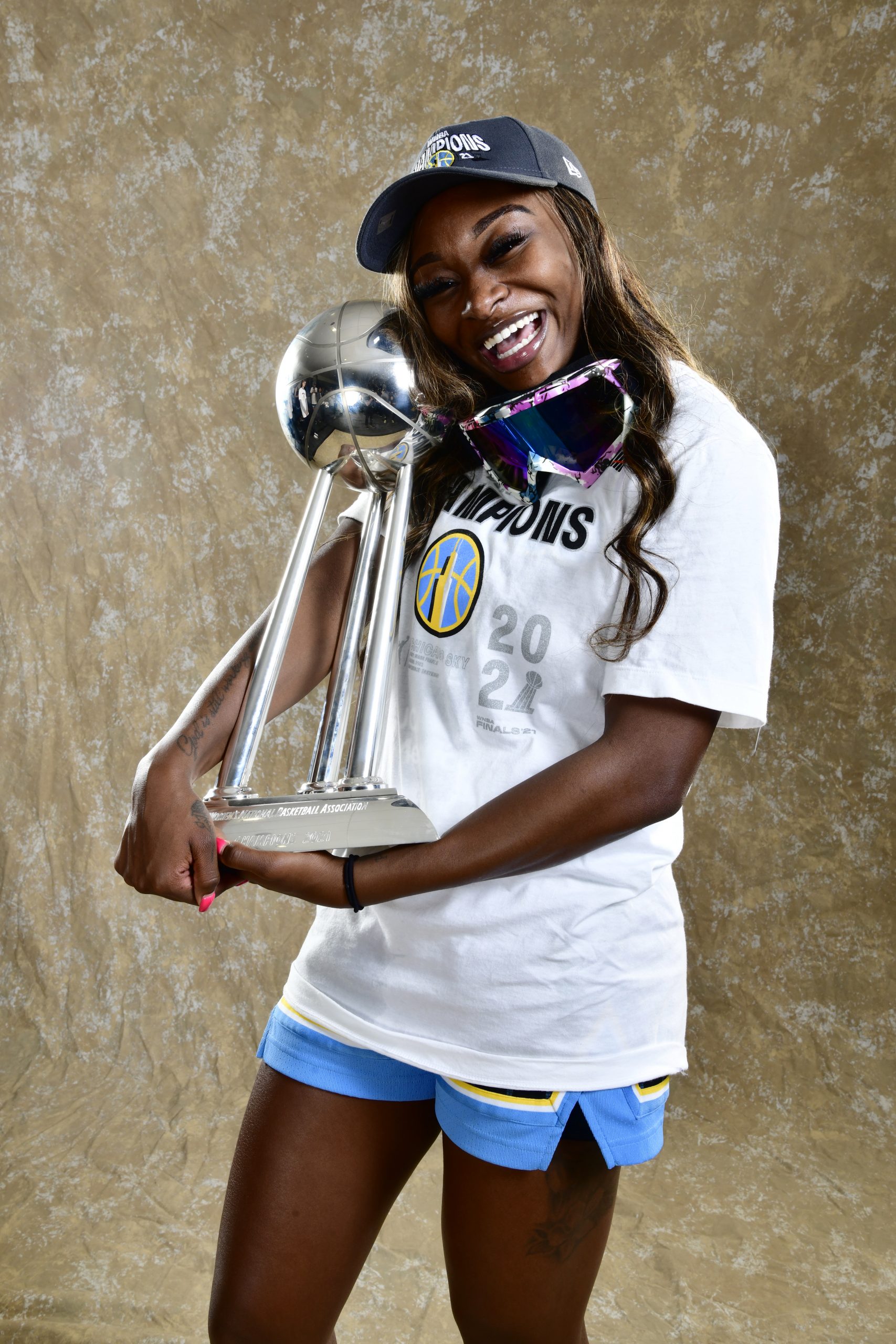 Someone who can truly speak to the testament of Evans' basketball career and how far she's come is her former Westside High School coach and Indiana Basketball Hall of Famer Rodney Fisher. He first started coaching Evans when she was in the fifth grade and became her coach again once she started attending Westside. It was her defense that stood out to him most. 
"That's what sold me," Fisher tells SLAM. "She was just outstanding and relentless on defense. Couldn't shoot the ball, didn't have the handles, but you [could] see her willingness to learn and just how hard she played. Just a great, great attitude. The will to win. The time that she put in, even in the fourth and fifth grade, she put in the time. So everything she's gotten she's earned."
Leading the pack at Westside her junior and senior year of high school, Evans scored 2,832 career points, the fifth-most in state history. As a senior in 2016-17, she helped lead Westside to a 20-7 record while averaging 36 points, 7.6 rebounds, and 6.2 assists. 
She had her options of playing at Purdue, Tennessee or Louisville, and ultimately chose to take her talents to the Cardinals and suit up for head coach Jeff Walz. Her four-year career at UL was nothing short of spectacular: as a freshman, Evans was named to the ACC All-Freshman team in 2018 and the following season she doubled her scoring average from 5.1 points to 10.4, earning ACC Sixth Player of the Year.
That was just the beginning: she turned things up as a junior and became the first player in the history of the conference, men or women, to go from Sixth POY to ACC Player of the Year. As a senior, Evans averaged 20.1 points and played a key role in leading the Cardinals to the Elite Eight.
"Louisville was the stepping stone to get to where I really wanted to go in life. Obviously, graduating college and playing at that level was huge too because that's something that I wanted to do as a younger kid, and being able to finally do it was huge," Evans tells SLAM. "Louisville helped groom [me] and made me better on and off the court."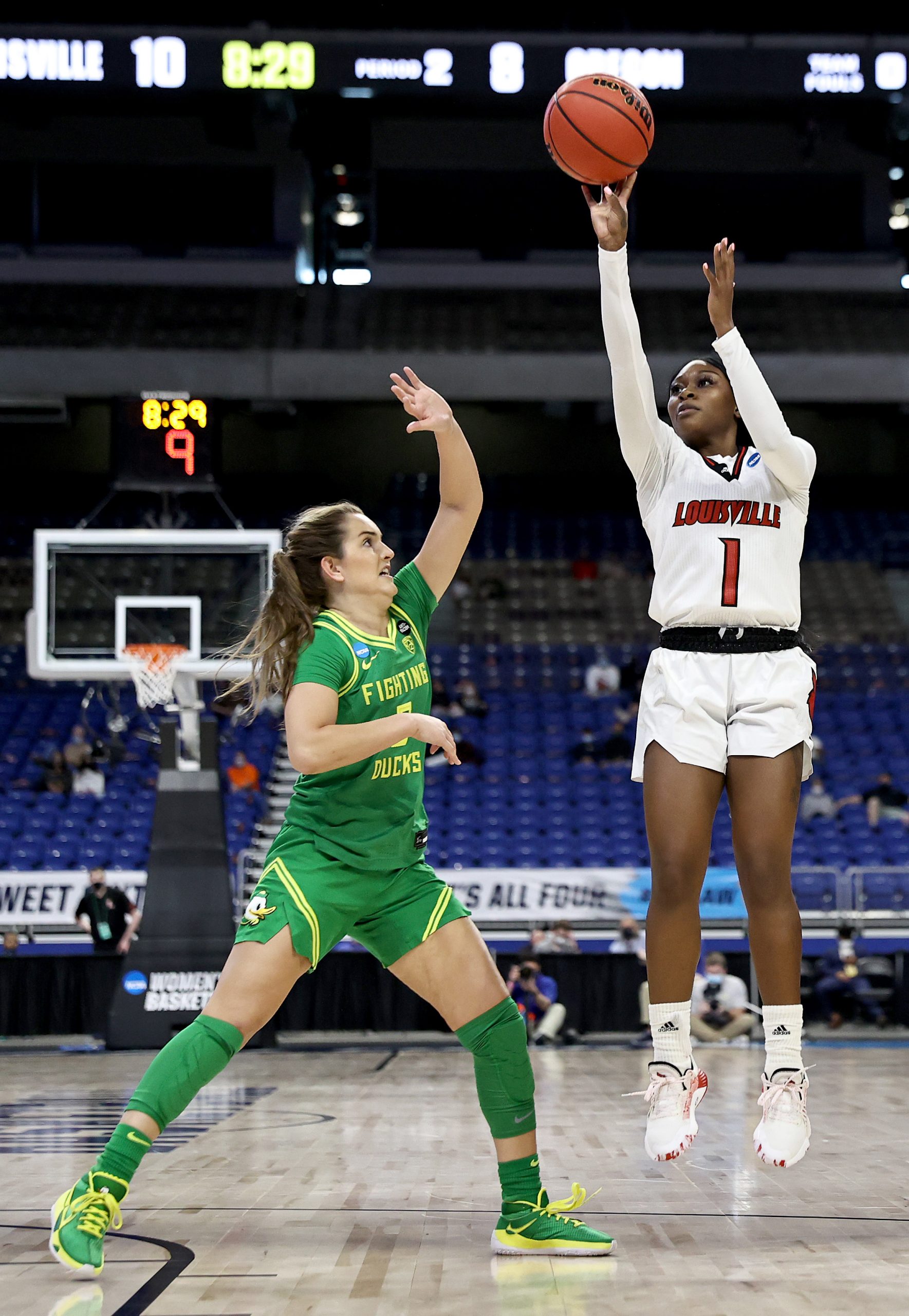 With all that she's accomplished throughout her career, Fisher says that Evans hasn't switched up at all. She's still just a kid from Gary.
"She's got so many accolades from high school to college and being drafted, but she's always level-headed. It's never about her," Fisher says. "She still comes over to the house, you know, whenever she can. She makes everybody feel like I'm really something special. And she doesn't have to do that." 
---
Photos via Getty Images.