Malika Andrews never thought she'd end up working in television. That might come as a surprise to those who have followed her rise in the media industry. Since graduating from the University of Portland in 2017, ​she's quickly emerged as one of the biggest media personalities in sports. Initially, the Oakland native, who grew up in a sports household, saw herself becoming a newspaper writer or even covering lifestyle for Cosmopolitan. 
"That was kind of my first goal, to do more, like, lifestyle types of pieces," Andrews says over Zoom. "When I got to college, the only opportunity they had at the paper was in sports. I thought, I know the game. I can cover sports. So for me, there is this dual and equal love of basketball and journalism, and they both sort of played out in their separate ways. I always loved writing classes, I always loved the conversation pieces of class that sort of existed over here, and then over here. I liked watching basketball…I didn't think they were going to come together the way that they did in college."
Andrews has been making waves since her days at the University of Portland, where she wrote for the student newspaper, The Beacon. A few weeks into her sophomore year, she was covering a soccer game when her advisor pointed out that a player had been sent to the hospital. Andrews then went back and interviewed the school's athletic trainer, who told her that they had suggested to the school "several times to pad the wall" that was around Merlo Field, but the university had failed to do so. After Andrews included this vital information in her piece, the school finally made the change two weeks later. 
"It's not like a huge thing, but to see the work you do create change was something that was really awesome for me."
It was then that Andrews' passion for writing and reporting was born, and she went on to become editor-in-chief of The Beacon in 2016. "I like to say I majored in the weekend—I majored in the school paper, I was there all the time. Late nights, cutting up stories, reworking things on the floor. I love to write, I love to talk to people."
She's come a long way since. After working for the Chicago Tribune and covering the Milwaukee Bucks and Chicago Bulls for ESPN, Andrews transitioned into becoming a sideline reporter. Understandably, she admits that she was nervous her first time being on camera. 
"I was in Milwaukee, on the baseline [for] six o'clock SportsCenter. Giannis had a concussion, Kawhi [Leonard] was out…That was my first time. I was wearing a jacket, like a blazer, and I looked afterwards to be like, Yo, did I just sweat through my entire [jacket]? But it was kind of cool, because today my colleague Jamal Collier did his first hit on [ESPN] NBA Today and I did think to myself, I wonder if he was feeling right now the way I was feeling then. I was fine, I wasn't great, I wasn't awful. But holy shit, I was so nervous."
Still, with every opportunity, Andrews has seemingly seized the moment like a seasoned pro. She's has continuously impressed with her live game coverage—especially during the 2020 NBA bubble in Orlando, where she became its youngest sideline reporter for a broadcast. 
"I think that writing and reporting prepares you for anything. I get asked now, Oh, what's it like transitioning from a reporter to a host? I have the same backbone, I have the same make-up. I'm not transitioning into being an analyst or a spewer of opinions. I have wonderful colleagues, who by the way, do have those credentials that so many are looking for—where they played the game, they played the game at a high level and they're going to break down the game. My credentials are in asking questions, in pushing people to explore themselves, to reflect, to examine something and potentially change or think about it differently. And that's what I'm good at. That's how I approach my job now."
Last season, as the Bucks lifted the LOB trophy for the first time in franchise history, Andrews was there to cover the historic moment. She became the youngest broadcaster ever to host the NBA Finals trophy ceremony.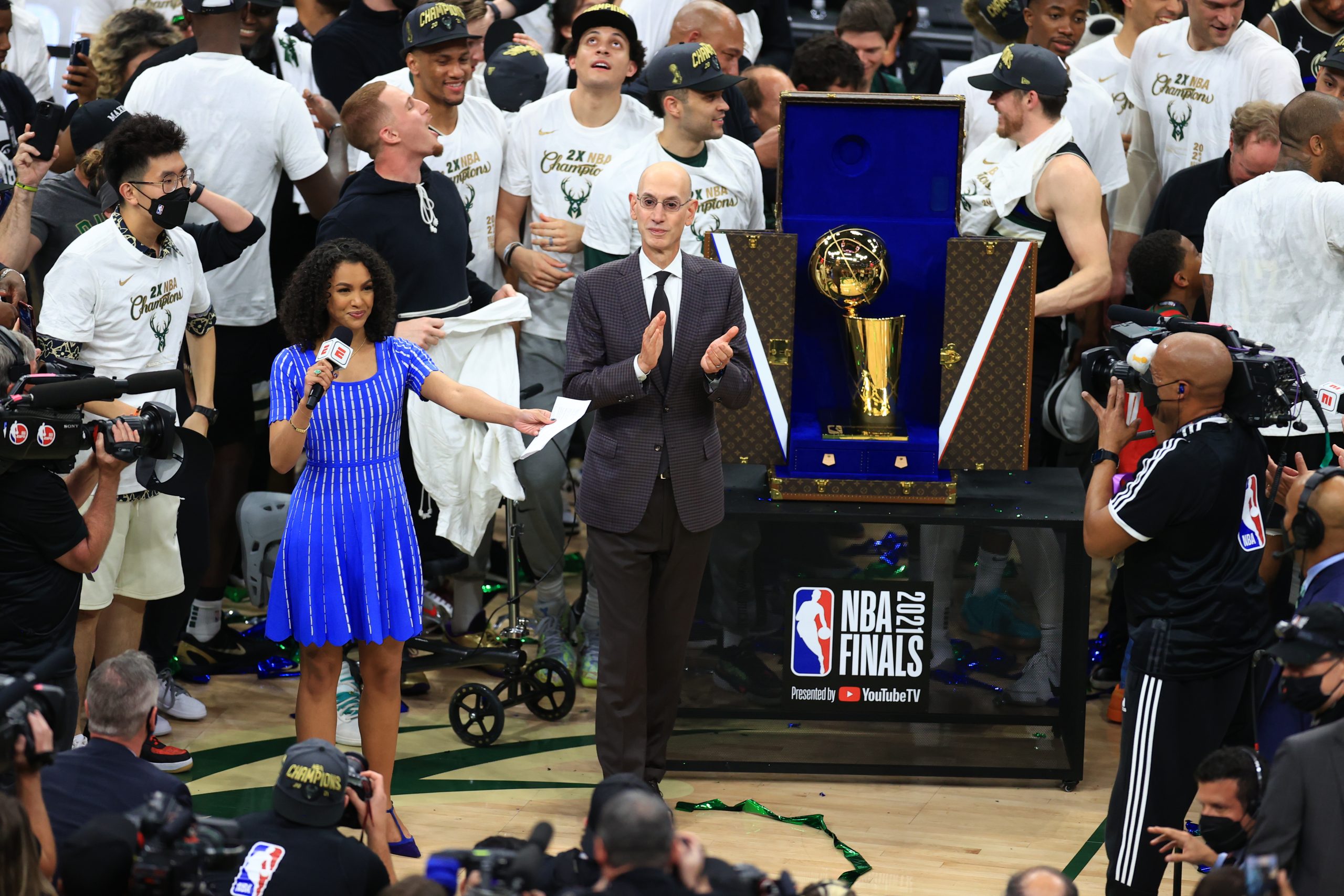 And now, at just 26 years old, she's bringing that same energy to her latest role as the host of her very own show, "NBA Today" on ESPN, which debuted in October and has had LaMelo Ball and Draymond Green among its guests. Andrews admits that she hasn't wavered from her love for writing, and in fact it's all intertwined into what she does now. 
 "I write the scripts of the show, so I'm writing in that way….Writing for print is a very solitary activity, [whereas] writing for television is something where, yes, I'm writing but my producers are [like], Hey, why don't we change this and tweak that? I always tell young people this when they ask me [and say], Oh, I want to be a broadcaster. I want to be on television. Being on television, that's just the medium. Why do you want to do it? Do you want to do it for the storytelling [or] because you're curious about people? As long as there is that, then it translates across mediums because writing is hard. It is a different type of hard. So for me, the transition from print to television, I was aided in the fact that it was just about reporting. It was just about gathering information and sharing it in a different way. Information is what's important. It was about getting information and writing it or getting information and being able to say it on TV. And those are just two different parts of the same cloth that I think are important." 
Even with all of the success, Andrews is committed to building her craft even further and spearheading a show that not only entertains, but also informs. Earlier this week, she had NBA Commissioner Adam Silver on to talk about how the League is addressing the omicron variant and the continuation of the season. 
"I just want to get better and help be a part of a show that is a part of the fabric of the NBA," Andrews says. "I think that if we can get a little bit better every day; If we can tell some stories that we're proud of, if we can maybe change something for the better, just a little bit—maybe make someone think a little bit differently about something that they hadn't thought about in that way before, [or] push someone to question appropriately [and] think about someone in a more caring way—if we can achieve all of that, while celebrating the game, I think we'll have done our job…I have a whole bunch of goals, but if at the end of the day we got better and we're having fun and people have fun with us, watching us, listening to us, [and] they learn something, that's all I can ask for."
Andrews admits that she's still working on finding a balance between her work schedule and doing the other things she enjoys, like reading and listening to the Dr. Death podcast. 
Still, Andrews' presence is everywhere: turn on the TV and she's there covering the League on NBA Today or the sidelines of an NBA arena. Hop on Twitter and you'll definitely see her breaking news on your timeline, or even Adrian Wojnawoski retweeting her. 
She seems to be always tapped in. And therefore it makes sense why she would much rather not talk about what her screen time looks like. 
"Don't ask me about it. It's embarrassing. It's gross. When [my] Peloton instructor—on a pre-recorded ride, by the way; I take the pre-recorded stuff because I don't have time to figure out when I can take a live class now—[is like], Yes, you! You, put your phone down! I see you over there. How do you see me? How do you see me texting this person back or checking in with that agent or whatever. And you're like, Oh, this half hour is carved out for the day. This half hour is for us. There is an US that exists within my phone. I get very excited when my screen time is down. It's something that I'm like, Yes, this is exciting! But it's not very often."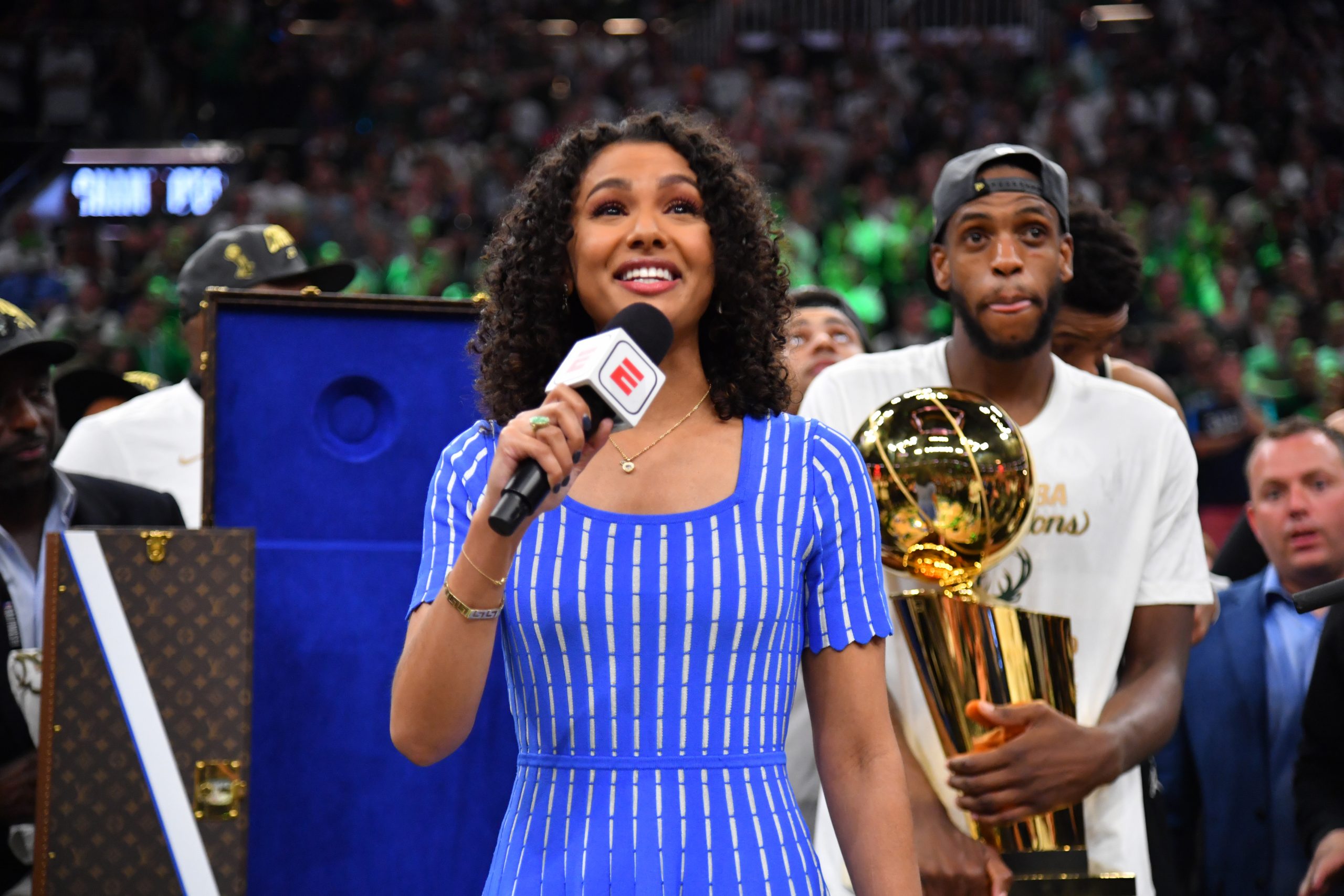 Still, it's clear that Andrews' rise in the industry is a testament to her hard work. She says that it feels "gratifying" to be in the position that she's in, where people not only watch and read her work, but will also come up to her in the line at the supermarket or while getting coffee just to talk to her about hoops. 
"It's awesome that they want to take time out of their day to come and chat with me about a sport that we all really enjoy watching. The conversations we have on NBA Today, the conversations that I have with Ryan Ruocco and Doris Burke and Mark Jackson and Mark Jones and Jeff Van Gundy and Mike Breen, those are the conversations that everybody has in their car, yelling at the radio, with their friends at the barber shop. I just so happened to be privileged enough to get to have them where people want to watch and listen to what we have to say. I've said it before, [but] I have a get-to job, not a have-to job. And so many people in the world have a have-to job. My job is a reprieve from theirs. Sports is a reprieve from their have-to. What do I have to complain about or adjust to? This is awesome." 
---
Photos via Getty Images and ESPN.