Guess who had the fourth-most starts on the Miami Heat's 2011-12 championship squad, that famous unit that featured LeBron James, Chris Bosh and Dwyane Wade and won 'Bron his first ring? Joel Anthony. Do you even remember the 6-9 lefty who started at center and was known, if at all, for his defensive effort?
Welcome to the life of a ballplayer from Montreal. Or at least, the old life of a baller from Montreal. When Anthony was en route to winning a ring 10 years ago, there were just a handful of players from the entire country of Canada in the League, and they were basically a novelty. And French-speaking Canadians from Quebec's largest city? With all due respect to Bill Wennington, they were a pure anomaly. Today, the country that sends the most players to the NBA other than America is Canada—a story you've probably read before—with more and more coming out of Montreal, which is a story you probably didn't even realize was happening.
"There was no dream of making the NBA when I was younger," recalls the 39-year-old Anthony, who eventually played college ball in Montreal (Dawson College), JUCO in Florida (Pensacola JC) and DI in Nevada (UNLV) before making the L as an undrafted free agent in 2007. "I  loved it, I watched it, had favorite players like Jordan and the Bulls, and Shaq as a big I looked up to, but I never saw myself as having an opportunity to play in the NBA. I couldn't wrap my head around it."
As Anthony took baby steps to the NBA, he would encounter various forms of incredulity from his teammates. In college, "It was, They have basketball players in Canada? What? They didn't even know there were Black people in Montreal," Anthony remembers. When he got to the NBA, "There weren't a lot of Canadians. Just Steve [Nash], Jamaal [Magloire] and Sam [Dalembert, a rare Montrealer]. When people found out I was from there, they were surprised. I realized what a big deal it was when there were a lot of articles and people talking about it back home, like, People like us don't make it to this level!"
While Anthony grinded his way through a 10-year NBA career, Toronto-area players like Anthony Bennett, Andrew Wiggins and Jamal Murray made Canadians a regular presence in the Draft lottery and the L at large. Hoops slowly took hold in Montreal and its broader province of Quebec as well, with first- and second-generation immigrants from French-speaking nations across Africa and the Caribbean helping to hasten the region's interest in sports beyond Canada's national sport of hockey.
As The Globe and Mail pointed out in an article last May, the presence of Montreal products Khem Birch, Chris Boucher, Luguentz Dort and Karim Mané in the NBA "reflects the sport's rapid growth in Quebec, where soccer and basketball have begun to chip away at hockey's supremacy. The week of May 10 was a symbolic watershed: That Monday, for the first time in team history, the Montreal Canadiens had no Quebec players in their lineup. The following night, the Toronto Raptors had two."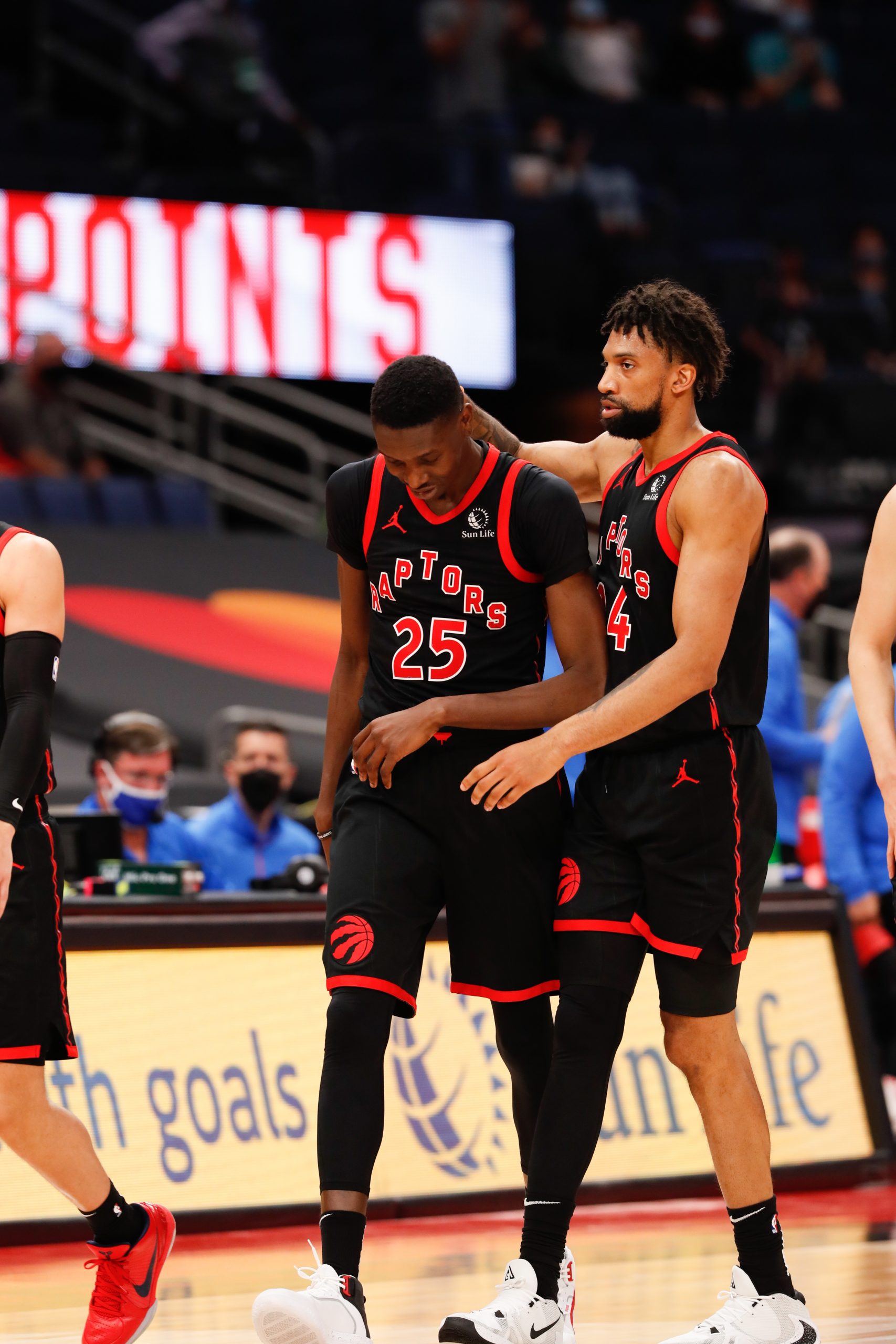 According to a 2019 article in the Quebec newspaper le Soleil that cites data provided by Basketball Québec, from 2013-2019, the number of people participating in the sport within the province jumped from about 38,000 to about 52,000.
Boucher's manager, Ibrahim Appiah, grew up in Montreal and made the jump to DI High Point University in North Carolina in 2007. Since completing his playing career, he's become a coach and advisor to players throughout Quebec. Appiah was part of a group that discovered Boucher, a completely unheralded kid who had moved to Montreal from St. Lucia and was as raw as he was athletic. 
"Around here, it's almost taboo to say you think someone could make it to the pros," says Appiah. "But I thought Chris could. And really, if anyone could, it would be him. We saw what he could do and kept comparing him to Anthony Davis."
Boucher has not reached AD status but now, in his fifth NBA season, the 28-year-old is a legit rotation player, coming off a season in which he averaged 24 minutes, 14 points, 7 rebounds and 2 blocks per game for the Raps. Dort, meanwhile, is in his third season in the NBA and is now a full-on starter for the Oklahoma City Thunder, the only team he's played with.
After their youth careers in Montreal both Boucher and Dort did brief stints at Pac-12 schools (Oregon and Arizona State, respectively) before reaching the L as undrafted free agents. Their Instagram feeds overflow with love for their home city and shoutouts to the various camps and youth programs they both support in Canada.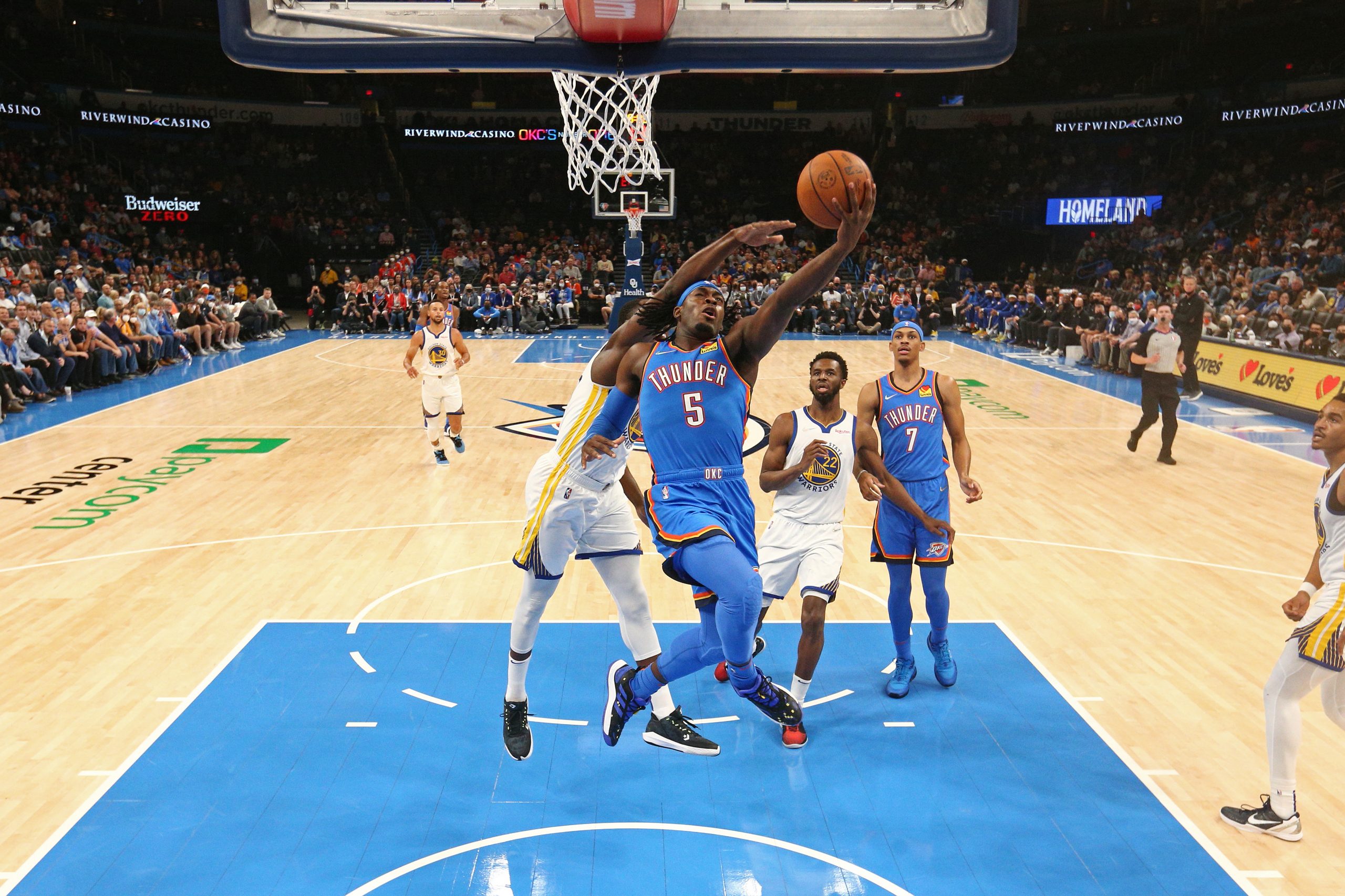 Alex Victor, another big influence on the Montreal hoops scene (please see the story on his Institut de Sport Dynastie), loves what he's seeing from Montrealers in the L right now, and is even more excited for a prospect who's right around the corner. "Check out Ben [Bennedict] Mathurin," Victor says of the 6-6 wing who's about to kick off a super sophomore season at the University of Arizona. "He is projected to be the first player from Montreal to be a lottery pick."
Such an achievement will represent a logical step in this evolution, Anthony says. "Montreal has always had ballplayers, even if we didn't get the recognition we deserve. The type of players who have made it have been underdogs, guys who came in and had to really work and grind their way through. But now they're developing on offense…and people are taking notice." 
---
Ben Osborne is a former SLAM Ed. and is now Head of Content for Just Women's Sports.
Photos via Getty Images.